cloud
API-Gateway
Fusio can be used as gateway to your internal API and microservices.
face
Low-Code-Platform
Fusio allows you to build API endpoints without coding knowledge.
build
SPA-Backend
Fusio can be used as backend service for your single page application.
Backend
Fusio provides a simple and intuitive backend to control and manage your API. The following screenshots give you a first insight how Fusio works.
Action
At Fusio an action is a small programm which gets executed if a user invokes a specific route. Fusio provides already many actions to build endpoints without coding i.e. to create endpoints based on a database. For more advanced logic you can write your logic in different programming languages:
Development
Fusio provides a custom VSCode extension which helps to easily build new actions on a remote Fusio instance. At the backend you can attach every action to a route to build your API.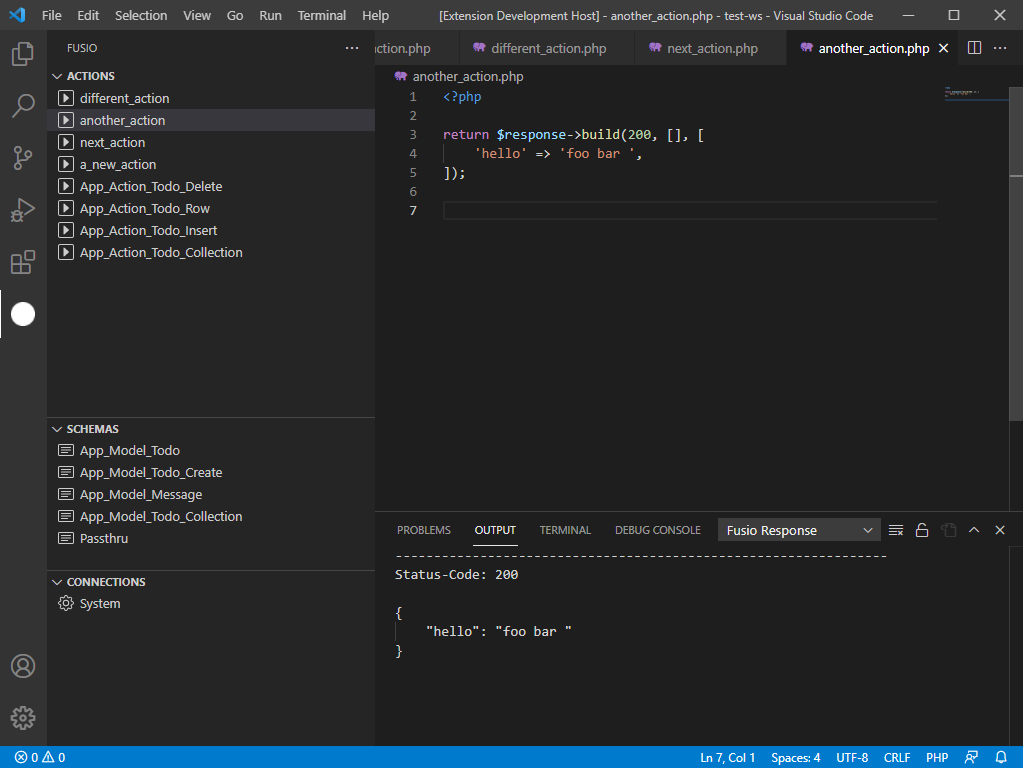 Features
Once the API is deployed Fusio provides the following features out of the box:
build
API management
Fusio provides a powerful backend app to control and monitor your API.
assessment
Developer portal
Fusio provides a developer portal app where developer can register to use your API.
book
Documentation
Fusio provides a documentation app which shows all available API endpoints.
monetization_on
Monetization
Fusio provides a simple payment system to charge for specific routes.
account_box
OAuth2 authorization
App developer can obtain an access token to access non-public API endpoints.
swap_horiz
Rate limiting
Fusio provides a way to rate limit requests based on the user or app.
cloud_queue
Schema generation
Fusio provides an endpoint to automatically generate OAI and RAML specifications.
device_hub
Subscription support
Fusio contains a subscription layer which helps to build pub/sub for your API.
label_outline
SDK generation
Fusio can automatically generate a client SDK for your API based on the defined schema.